GOSPEL X-PERIENCE is back at the Palau!
Gospel Workshop
Description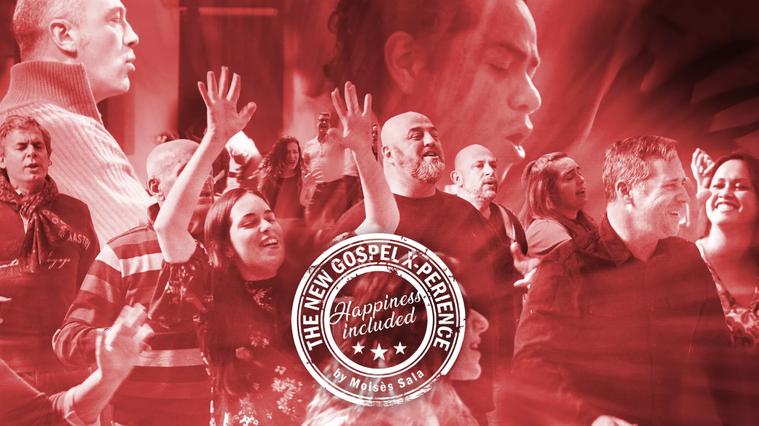 Performers
Xavier Raurich, piano
Àngel Valentí, drums
Alexandre Rexach, bass
Tomàs Frauca, guitar
Xavier Yelo, technical production
Moisès Sala, direction and production
Details
Moisès Sala brings to the Palau de la Música Catalana the 2nd edition of his GOSPEL X-PERIENCE, in which, for 4 hours, attendees will work on a contemporary gospel repertoire weaving its meaning and intention, its spirituality and transversality, and performing the songs chosen by Moisès Sala and accompanied by the musicians of his 'gospel band'.
It's a fantastic opportunity to be part of a Special Gospel Choir that, in its 1st edition at the Palau de la Música Catalana, in January 2021, managed to bring together 350 singers who shared a morning of sensations, emotions, smiles and extraordinary experiences.
Moisès Sala
Moisès Sala is a pianist, arranger, composer, speaker and economist, as well as one of the main promoters of Gospel in our country, with extensive experience leading THE GOSPEL VIU CHOIR.
He has carried out more than 350 GOSPEL X-PERIENCIES (gospel classes and workshops), throughout the peninsula, the Balearic Islands (he was the first one to bring the Gospel to Menorca, Mallorca and Ibiza, in 2004) and the Canary Islands, for numerous public entities and private, professional and amateur choral formations, business associations and groups.
For 4 years, he was part of the faculty of the Postgraduate Course in Musical Education and Creation at the UNIVERSITAT DE BARCELONA. He also coordinates and teaches the Gospel Summer Courses at the UNIVERSITAT DE GIRONA from 2006 to 2019.
In 2006, he created the solidarity action and social responsibility project in favor of children GOSPEL WITH NO BORDERS and he takes his GOSPEL X-PERIENCIES to humanitarian projects in Madagascar, India, Gambia, Senegal and Peru, among others.
Moises Sala collaborates, actively and in solidarity, with numerous national and international entities that work with children who suffer from various diseases, poverty and risk of social exclusion.
Several national and international firms and business associations have contracted his conferences and GOSPEL X-PERIENCES, including Hipra Headquarters, Leti Laboratories, Boehringer Ingelheim, Amgen Spain, Louis Vuitton, YPO Young Presidents Organization, Princesa de Girona Foundation–Foro Impulsa,...
He has collaborated with several coaches and companies in the creation and development of business skills based on emotions and gospel.
At a European level, he regularly teaches GOSPEL X-PERIENCIES in different countries of the continent for gospel choirs and popular, classical, operatic and liturgical repertoire.
In Eastern Europe it has held gospel campuses at the TBILISI STATE UNIVERSITY with more than 500 singers from the USA, Russia, Ukraine, Singapore, Japan, Kazakhstan and Georgia.
He is also part, in 2017 and 2018, of the faculty of the GOSPEL RISING FESTIVAL (Ireland).
In 2019 he participates in a new gospel festival, the SUSO CHORAL FEST, also in Ireland, as well as being part of the international faculty of the WAKE UP GOSPEL FESTIVAL in Italy.
He has worked and collaborated pedagogically with the organization GTM MINISTRIES INC. (USA).
With TGV CHOIR he has shared the stage with top national and international artists such as Natalie Cole, Gloria Gaynor, Jorge Drexler, Maceo Parker and Sharrie Williams, as well as performing exclusively with the Golden Gate Quartet, Soweto Gospel Choir, Joyful Gospel Singers of New Orleans and the Northern Kentucky Brotherhood Singers.
He is the author of the music for Poema dels Voluntaris by Miquel Martí i Pol, which he publishes thanks to the Obra Social La Caixa Foundation in December 2012 at the Barcelona Auditorium with the Department of Social Welfare of the Generalitat de Catalunya.
Currently, he is also musically directing two more gospel choirs: the GOSPEL PROJECT in Granollers and the HEAVEN ON EARTH GOSPEL CHOIR in Girona.